pan fund history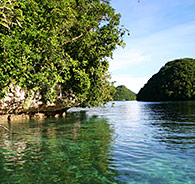 Palau is one of the most breathtaking places on earth. Its ancient terraces are one of the most monumental archeological features of the Pacific. Its ancient stone villages are an outstanding example of human interactions in a precarious environment. Palau's 70 marine lakes are one of the most unique habitats in the world. No other place on earth has the number and variety of marine habitats in a similarly sized area. Palau has one of the highest number of native marine and terrestrial species per unit area in the world.
Ancient legends and chants, award making films and documentaries, thousands of photographs, hundreds of art works, books and magazines try to capture the timeless magnificence of Palau. Palau is one of the best managed places on earth due to a strong commitment of its people to the well being of future generations of Palauans, residents and visitors. This jewel of the earth exists through long lasting to commitment. Extraordinary people have supported Palau's innovative financial management model called the Protected Areas Network Fund (PANF) to safeguard this priceless natural and cultural jewel for all to experience at least once in a lifetime.
Our Logo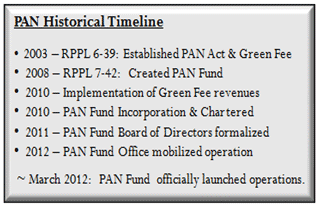 The PAN Fund logo depicts elements of Palau traditions and customs.
| | |
| --- | --- |
| | The 16 "bai" (men's traditional meeting house) represent the 16 states in the Republic of Palau. |
| | This is the Palauan symbol for money. You will see this symbol painted on many traditional meeting houses in Palau. |
| | The oval shaped object on the bottom is called a "toluk" (ongall). This is another type of Palauan money made of turtle shell. It is also used to transfer funds during customs. |